Loyalty points gives you something extra with online gambling. Casino.com believes that they should reward every player who is playing at their online casino. The more a player plays, the more he or she receives. The way of earning the casino VIP Loyalty points is quite easy. People can earn loyalty points for all real money play in the casino. The points are added to the balance when he or she leaves the game. Players can use their points to buy cash bonuses and they can get more for their points by spending them in higher quantities.
Open your account at Playamo and receive your loyalty points.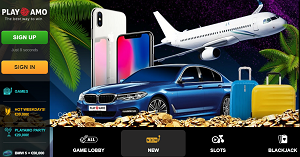 How many points do i earn?
The Loyalty level of a player is based on how many points he or she has earned since joining the casino. If it takes a little bit longer for a player to increase its level of loyalty, the casino waits for as long as it takes and will reward him or her all the way. To qualify as a VIP at Casino.com players need to have accumulated 20,000 points and have deposited $3,000.To qualify as a VIP Elite players need to have accumulated 50,000 loyalty points and deposited a minimum of $24,000.
People can claim cash bonuses relating to their loyalty level, the higher they climb through the levels, the higher the bonus they are eligible to claim. For example: You are on silver level and you have 1000 points. This means that you have enough points to claim only the $10 bonus twice, leaving 200 points in your balance. However, if you save your 1000 points and earn an extra 500, you can claim a $50 bonus and have a much better redemption rate by getting an extra 33%. But it pays to save. If you keep playing and save your points up to 7000, you will become a Gold member (at 3000 points) and be able to claim the $250 cash bonus with an even better redemption rate. This will give you an extra 43% for your points!! Remember, the more points you spend in one go, the better exchange rate you get! A maximum of $5,000 (Bronze, Silver and Gold), $20,000 (VIP) and $30,000 (VIP Elite) in cash bonuses from loyalty points can be redeemed per calendar month.
your current loyalty level
To spend points or to see how many you have earned so far you will need to go to the cashier in the casino software and click on the 'My Points' tab. Here you will find; your current loyalty level, how many points you need to reach the next level, your total number of points earned since joining the casino and the number of points you have available to spend on cash bonuses.
If a player has enough points to redeem any of the bonuses, he will be able to click on the 'Claim' button, which will put the bonus into the players account instantly. All unredeemed points will be removed after 3 months of inactivity on an account.